Freejack – #4 Film in the US, Jan. 17 1992
All Time Domestic Gross – $17,129,026
Freejack transports the audience to pure dumb science fiction devoid of anything that makes it stand on its own.
Not every film will be an absolute winner in the '92 Cinema Revue. The first of the bunch has arrived in the form of Freejack. This film released the same day as Juice, makes up for the lack of last week in '92 debut Love Crimes not streaming anywhere. Freejack's based on the 1959 novel Immortality, Inc by Robert Sheckley in the loosest way possible. The film was a box office bomb with a return of only $17 million on its $30 million budget. It failed to win over test audiences leading to reshoots delaying its fall 1991 release.
Alex Furlong (Emilio Estevez) is a race car driver who seems to die on the racetrack in a crash. Yet as the fiery crash comes his way, he's pulled from the wreckage at a fraction of a second. He wakes up transported to the futuristic world of 2009. The person behind the future pull is Vacendak (Mick Jagger). He is a criminal hired to deliver young bodies of the past to older clients to transfer their minds into. Furlong breaks free from this to be a Freejack on the run. With the future world of New York suffering, he must find his former love Julie (Rene Russo). He also must her boss McCandless (Anthony Hopkins) who may have something behind it all.
Freejack is a stupid movie plain and simple. Keeping in the tradition of January film releases, Freejack is the epitome of a "dump month" film. The premise is intriguing, but the execution's mishandled. The derelict world of future New York is a ripoff of Soylent Green. The cars and machinery are stuck in the realm of Blade Runner without the noir scope and feel. Everything is dirty and musty except in the high-class society where it's snooty and gaudy. The rise and crime of violence are RoboCop but without the fleshed-out satire.
The film has no true identity that makes it stand out. The story itself is incoherent and all over the place, only becoming more as the film continues. The resolutions and twists in the film are baffling to insulting those who decide to watch it. Hell, they do not even explain what the hell the term "Freejack" means.
The performances are lacking to go along with it except for Estevez. As Furlong, he plays a man out of time with scaring confusion while in survivalist mode. He plays it smart as the film goes on using his wits to beat the main baddie. None of that feels cheesy or unbelievable even as the plot goes into nowhere land. Russo is playing the typical love interest and not given much to do outside of that. Anthony Hopkins is playing this as anyone would if they were only here for a paycheck with a large presence. Yet, it's still Hopkins. Only he can spout stupid plot twist exposition as if Shakespeare had written it.
[Sidenote: Hopkins garners his Academy Award for The Silence of the Lambs in March 1992. He has said Freejack "was a terrible film" which he is correct in saying.]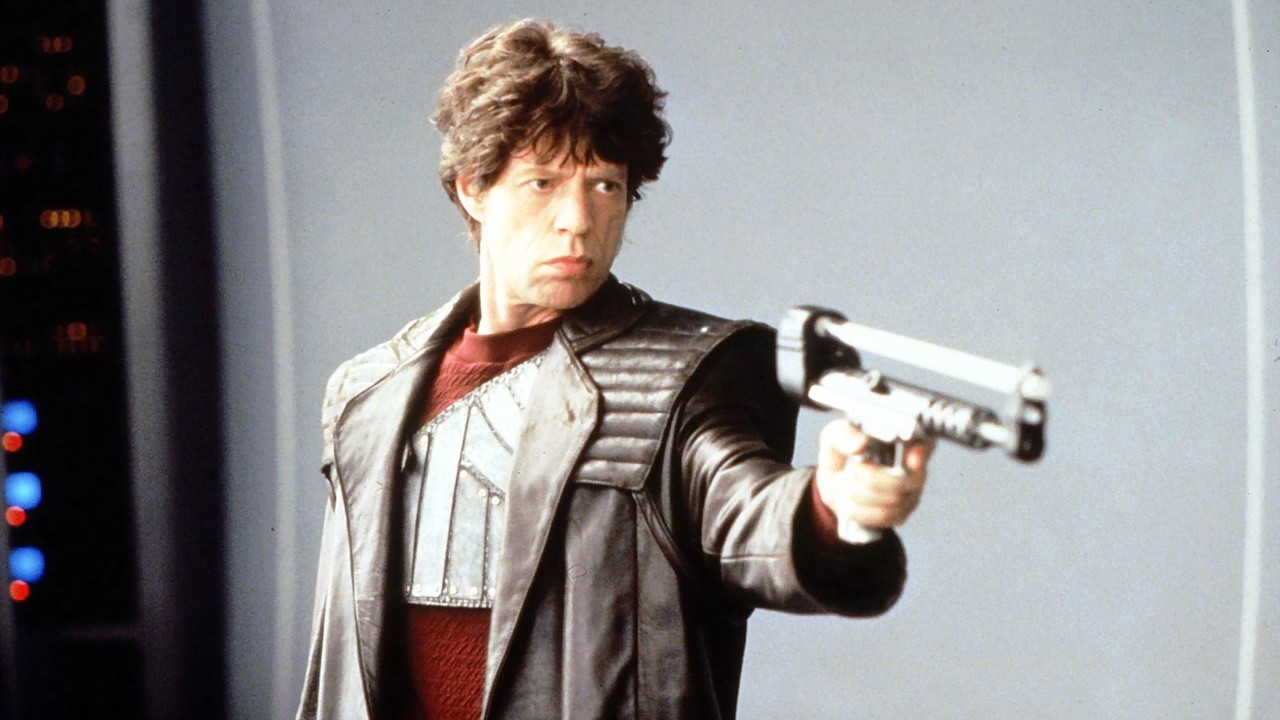 Jagger is a terrific performer when on stage with the Rolling Stones playing all their hits. He oozes charisma, sex appeal, and can get the audience on their feet with the best of them. His performance here is devoid of all that. Everything that makes Jagger as exciting as a performer is gone here. There is only one time where he shouts "All right, do it now!" that sounds close to eliciting an emotion. Jagger is still a great performer on stage, but acting might not be his strong suit. He seldom acts these days if at all. Yet, this performance is still less embarrassing than the video for his duet cover with David Bowie of "Dancing in the Streets."
The effects work in this movie also are not much. Half of the film is nothing but a bad green screen. At one point, Estevez jumps out of a car before it crashes with visible composition. The main culprit is when they meet Hopkins's character in a climactic sequence. It's the actors standing around in an unforgiving green screen room. It does not help that they are standing in a desert, but they are still in the dark flat light of the room they entered from. It's outdated even for its time.
Freejack is a forgettable sci-fi film with no identity or heart. It's not worth a revisit for those who have seen it. It's not worth the time to invest in for those curious to see it for the first time. If it wasn't for it being on the list I created, I would have watched something else. Damn, where was Love Crimes when I needed it?
Revue Rating: 1.5 out of 5
This Wednesday, we get away from this bad and into even worse. It's the Razzie Winner for Worst Picture of 1992, Shining Through. I still haven't watched it, but it can't be that bad right? Right?