Wayne's World – #1 Film in the US Feb. 14 – 17
All Time Domestic: $121,697,323
Wayne's World remains an excellent all-time classic that'll make you laugh, cry and maybe hurl.
It's Cinema Revue Live! Sorry, that intro does not translate well onto digital paper. Saturday Night Live is an institution for comedy geeks. There's nothing like staying up way too late to see celebrities mix it up with a cast of featured players. Some of them are great like Steve Martin. Some flop on a dime like Steven Seagal). Musical acts give their all like Nirvana. Even host introductions can be iconic (even more so now thanks to Twitter). It's still the longest-running variety show that has launched comedy stars to the heights of fame. It birthed Adam Sandler, Bill Hader and Kristen Wiig to name a few. Lorne Michaels is now in legendary television producer status because of SNL.
The Blues Brothers were born from this with an engaging musical act on the show. Their popularity led to the terrific and hilarious 1980 film The Blues Brothers. With this surefire success, SNL could spawn more films from popular sketches. That would come to pass in the 1980s due to dismal seasons and response during Dick Ebersol's takeover. Eddie Murphy struck out on his own making a name for himself along with the likes of Bill Murray and Chevy Chase. Then came Wayne's World segment in 1989.
Comedian Mike Myers would expand upon a character named Wayne Campbell. Campbel came from the CBC show It's Only Rock & Roll in a segment called Wayne's Power Minute. Now it was out from being in a van to his parent's basement. Campbell would now have a pal named Garth Alper, played by Dana Carvey, in Wayne's World. The show would cover topics such as drunk driving or who they thought was hot. They would also invite various other characters from a fictionalized Aurora, Illinois. They once had Aerosmith come over and hang out at his breakfast nook. The segment was perfect with Campbell as a nitwit in love with rock music with Garth as his dorky pal beside him.
It grew to be a popular segment with Gen X to the point the film began to be written into production. Director Penelope Spheeris was coming off The Decline of the Western Civilization documentaries focused on punk and metal. She also had the cult hit Suburbia which effin' rules. Spherris was hired to bring the character beyond the CRT screen. This film would help make Myers and Carvey stars.
Wayne (Myers) and Garth (Carvey) have been broadcasting to local success in Aurora via their cable access show. The two give us a glimpse of their day-to-day life by breaking the fourth wall. The duo is approached by Benjamin Kane (Rob Lowe), a producer trying to sign a contract to bring Wayne's World to a larger market in Chicago. While the duo agrees, Wayne also starts to date the lead singer of the band Crucial Taunt, Cassandra (Tia Carrere). Benjamin sees this as another opportunity to get under Wayne's skin and take his show away from him. Even worse, his friendship with Garth can be in danger. Will it recover? Don't fret, the film has three endings to enjoy.
Wayne's World is a terrific throwback that remains as hilarious as ever. Mike Myers is fantastic as the dim-witted Wayne bringing nothing but heart. He's the 90s answer to Ferris Bueller and his view of the world is a cartoon come to life. Carvey's Garth is an absolute dork. It's perfect with his voice that's both curious and the encapsulation of what one thinks of a nerd. There are definite notes of a less annoying Eddie Deezen, but having his own vibe about him. The duo plays off well with each other which is interesting. Carvey was going to have a way smaller role in the film but asked for more scenes. It worked out in favor for both of them in the end.
When it comes to comedy, it holds up in that department. The fourth wall breaks are still terrific with Ed O'Neill still being the best of the lot. The sign gag during the interview with Noah is childish in a playful way. The question of finding Bugs Bunny hot will never fail to get me to laugh. Even a joke that could go south such as Wayne speaking Cantonese remains clever. I do love the ending of this film showing a tragic end, then saying "nope, let's do the Scooby-Doo ending." Then when that doesn't work, the mega-happy ending steps in to close out the film. It's terrific. It reminds me of Clue, which is also a damn fun time. One other scene I love is when they tell Benjamin they are not selling out no matter what. This is all while endorsing many products from Pizza Hut to Reebok.
One factor of the movie that I also enjoy is the love of music. Myers fought for that "Bohemian Rhapsody" scene and it shows why. This was the time of hair metal dying and grunge leading the charge with Queen's popularity not as strong. The loss of Freddie Mercury to AIDs complications added to the end of the band. Yet this scene alone reinvigorated their love of them. Of course, they remain a household name, albeit more so thanks to a terrible biopic. The love for the 60s and 70s rock with the band Crucial Taunt covering some classics adds to the nostalgia. Myers grew up listening to these tunes and it shows.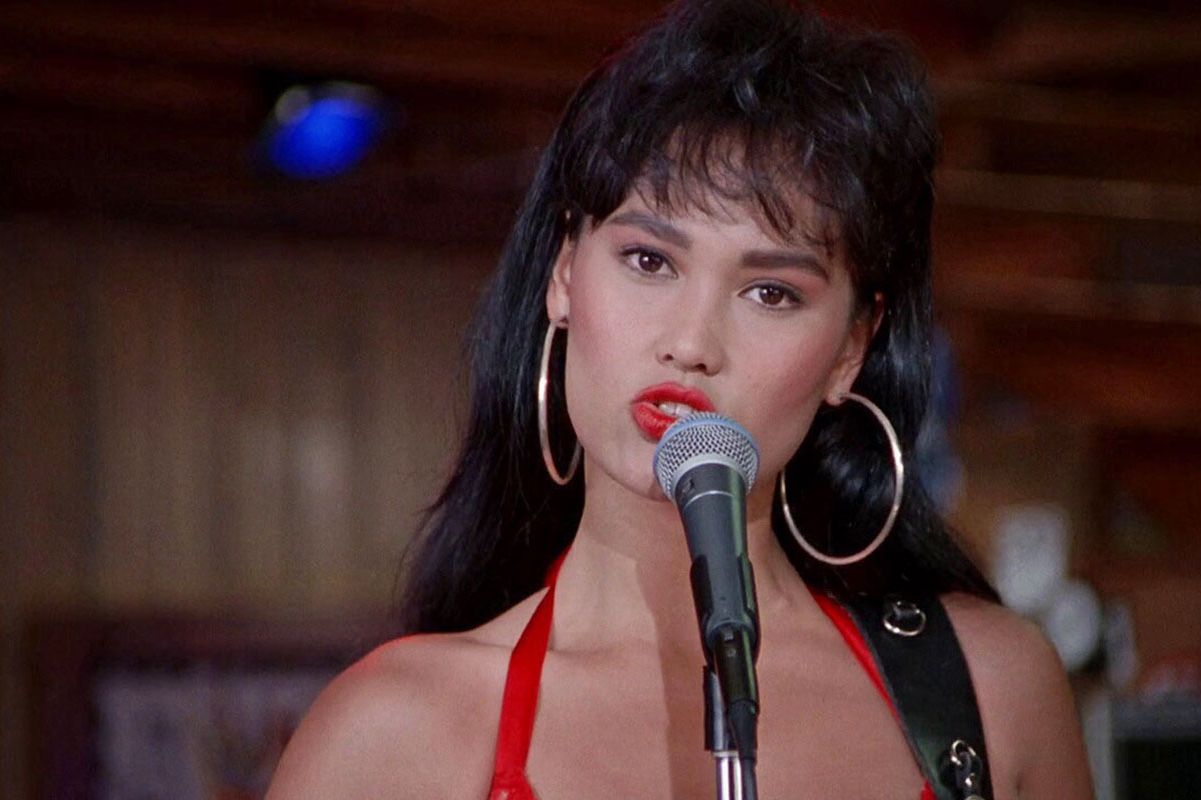 Tia Carrere, best known as Nani from Lilo and Stitch, does a terrific job covering these tunes. She's an absolute stunner of a performer with a stellar cover of Sweet's "Ballroom Blitz" that whoops ass. Her turn as Cassandra cemented a crush on her that still carries on today. All our hearts go schwing when she comes onto the screen.
[Sidenote: There was a music video because of course there was.]
Alice Cooper's cameo steals the show with a performance of his then-new single "Feed My Frankenstein." He also shares a wealth of knowledge on Milwaukee's Native American origins.
Spheeris does the great direction with her skills from her music documentaries on display. She has a handle on making the fourth wall breaks feel natural and not forced. Coming from the Decline documentaries, she was the right person for the job covering the music performances and capturing these dim-wits come to life. Wayne is no Chris Holmes of WASP drunk as hell in a swimming pool, but he is still a character worth investing in. It's unfortunate Myers had constant clashes with her with Spheeris not returning to the sequel. Spheeris has called Myers difficult, but talented in recent years. Spheeris would go on to do another cult classic for us Millennials with The Little Rascals carrying bits of humor and cameos aplenty in itself.
Wayne's World is excellent. It still makes people smile and laugh to this day. Myers and Carvey are a perfect duo and the humor is close to timeless. It's a perfect trip back to a simpler time of mid-budget comedies and pop culture mishmash that don't overdo it. Put it on next time for a pick me up for one hell of a party time.
Revue Rating: 4.5 out of 5
Next time, a big bowl of yikes and yucks with Stop! Or My Mom Will Shoot.