The Mambo Kings – #16 Film in the US (Feb. 28 – Mar. 1)
All-Time Domestic & Worldwide Gross: $6,742,168
The Mambo Kings is a heart-filled wonder of song, brothers, and what it takes to follow your dreams, even if it means sacrificing what you want.
Antonio Banderas was a known name to those in the know of international cinema. Banderas was big in Spanish cinema due to his collaborations with legendary director Pedro Almodovar. Tie Me Up! Tie Me Down! brought Banderas out further. That and Madonna having him in a small role in Madonna: Truth or Dare as a hot guy because, I mean, look at him. This caught the attention of director Arne Gilmcher looking for leads in their adaptation of The Mambo Kings Play Songs of Love by Oscar Hijuelos.
Armand Asante would star as Cesar Castillo and Banderas as his brother Nestor much to the chagrin of Warner Bros. They wanted Jeremy Irons and Ray Liotta in the roles instead to garner a wider audience. That would have been a bad idea as a whole. So trade one Italian actor for another and the British man for the Spaniard. Banderas had to learn his lines phonetically to garner the role with a dialect coach to make his English language debut. Thus began the breakthrough of Banderas' career to the stratosphere.
The Castillo brothers, Cesar and Nestor (Assante and Banderas), venture to America at the request of Maria (Talisa Soto). She warns Cesar that if they do not head out there, Nestor and he will be killed by her husband Luis. Nestor does not wish to be there, but Cesar does not want to pass up the chance of making it big in New York. One night at the Palladium, they see Tito Puente (Himself) play with Nestor minding his business. Cesar plays alongside Puente with such enthusiasm he continues long after someone gets shot to death. They start to form their own mambo band with co-workers at their meatpacking plant. Helping them get their first gigs is the owner of Club Bablu Evalina (the immortal Celia Cruz) and so The Mambo Kings are born.
They play a showstopper garnering the interest of club owner Fernando Perez (Roscoe Lee Browne). Cesar rejects Perez's contract offer saying they will make it on their own. Nestor disagrees as he wants to share his songs and music with the world while Cesar lives to perform beyond what is expected. Nestor meets a woman named Delores (Maruschka Detmers) and becomes enamored with her despite his heart longing for Maria once more. The boys continue their path to fame, forgoing the easy route with minor brushes of fame, but it could be more than either of them bargained for.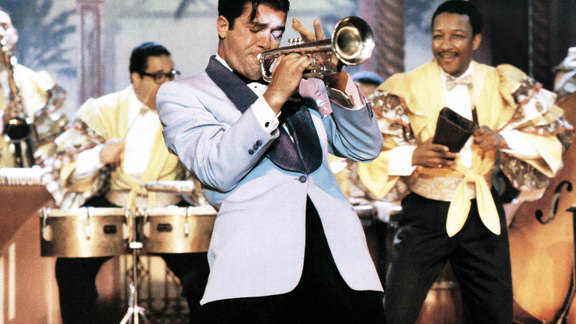 The Mambo Kings succeeds at delivering an entertaining story of music and life while not shying away from the drama it brings. The relationship between Cesar and Nestor is so wonderful. They fight, they cry, and they play off each other as if they knew each other all their lives.
During musical numbers, they perform like no one's business having control of the crowd aka us the audience. Banderas as Nestor captures his struggle with always being in the background of Cesar's dream to make it big. He dreams of owning a little club of his own and playing his works. He is in constant conflict with himself and does not want to disappoint his brother and those around him that he never gets to branch out. When he finally tries, his brother can disown him in a minute.
Assante plays the ambitious (if a bit over his head) Cesar with charisma that oozes on the stage and the floor. It's hard not to be completely wrapped up in his performance. Heck, he almost steals Delores with dance moves and charm alone. When he does hit a deep end, later on, it hurts because he should not be that way. Yet, the contrast between Cesar being happy and down on his luck never feels phoned in. I've only ever seen Assante in the awful Judge Dredd. Yet, I have heard him prior do a fantastic voice role as the villain Tzekel-Kan in The Road to El Dorado.
The music of the film is the standout. You came for mambo and this movie delivers on all fronts. From mambo classics to an original work, it is a brilliant time capsule of that time. The original song "Beautiful Maria of My Soul" is a beautiful tune that is featured throughout. It captures Nestor's love of Maria and how he knows nothing will ever come close to her ever. The verse "And the taste of you remains/Clinging to paradise" cemented that. It's beautiful in the most tragic way and even affects Delores feeling like she will never give the love Nestor desires. It was nominated for an Academy Award for Best Original Song but lost to some song about flying on a carpet.
Getting actual Tito Puente in the film is great to see. Most of my frame of reference for Puente is his mambo tunes and his guest spot on The Simpsons. His percussion work remains legendary. Puente was a master of the mambo drum beats. Celia Cruz was also a phenomenal get because she was a big player in the scene and an Afro-Cuban icon. Cruz was a big staple of my childhood during Nochebuena, so it was fantastic to see her. I wished she shouted ¡AZUCAR! At one point, but alas, it did not happen. The wildest get though is Desi Arnaz, Jr. as his dad Desi Arnaz, Sr.
The reveal is perfect as he is in the shadow and then he appears. Arnaz, Jr. may not look like his dad, but he evokes him so much that that falls by the wayside. Arnaz, Sr. playing a part of the story makes this story feel in our reality because mambo was all over that show. The integration of the modern actors and classic scenes is not overdone either. Rather it's interesting to see how they pulled it off. It is shot in better camera quality, but when it does cut to the actual footage, it never seems off-putting. This is two years before Forrest Gump used visual effects to achieve a similar idea by adding Tom Hanks to archival footage. This scene holds up better than the effects in that film decades later.
The editing of the film by Claire Simpson is no slouch either. There's a wonderful montage of Celia Cruz singing as the boys play horrible gigs while Perez dances away. It delivers the passage of time in a unique way. The first night at the Palladium covers a fun night of chaos leading to the deadly resolve with manic direction, quick cuts, and furious pace. The editing is tight with no minutes wasted as every piece is a perfect fit. I miss movies that are under two hours. We were spoiled back then. Glimcher picked a marvelous editor to carry his style and direction. It's a knockout. Heck, the credits even have Celia Cruz sing the night away.
The Mambo Kings was a delightful surprise out of the pack so far on this '92 Cinema Revue journey. It floored me with how remarkable it was at being a look at what happens when dreams take their time to achieve. It's thrilling with showing a realistic brother relationship complete with troubles. The music delights in a tribute that is not nostalgic, but a window into a former large part of the music world. I loved this movie from start to finish and cannot wait to show others if I get a chance.
Revue Rating: 5 out of 5
Next week, put on your VR headset because we are going into the virtual world of The Lawnmower Man.