The Player – #13 in the US (Apr. 24 – 26)
All-Time Domestic & Worldwide $21,706,101
The Player remains a clever satire of the Hollywood that was, that is, and what eventually would be 30 decades later.
I've only seen one Robert Altman film before this one. This would make me semi-qualified to write about if said film was not 1980s Popeye starring Robin Williams. It's not the best introduction to a career that brought out classics that should have been required viewing. M*A*S*H* is still a television show in my eyes. The Long Goodbye is not a prequel to The Long Kiss Goodnight. Nashville is still a place in Tennessee that does not like my people very much. These films do have me curious about why they are held in high regard. I will find out soon. I am not ignorant to want to venture into his work, I never made the attempt until now.
The Player was released in limited theaters in April before releasing wide in May. Even in its limited screenings, The Player began to have an impact. It is looking at the Hollywood that was, the Hollywood that existed in 1992, and the Hollywood to come. 1992 was significant because it was the turning point of the 80s coming to its true end for the 90s to begin. In cinema, 1992 was only a preview of the better parts of the decade with 1994 and 1999. Those two years are often cited as the best years in films and for great reason. Yet, The Player would be a small warning into what Hollywood would morph into 30 years on.
Griffin Mills (Tim Robbins) works at a studio that prides itself on its slogan "Movies…Now more than ever." Mills is a hotshot executive who hears all the pitches from writers in Hollywood. Mills, along with his girlfriend Bonnie Sherow (Cynthia Stevenson) hears all the countless pitches. Only a few of them will ever be produced into a film. Mills has been receiving threats via postcards in the mail from an unknown writer. While doing his own investigative work, Mills stumbles upon the name of writer David Kahane (Vincent D'Anafrio). Mills figures out that he may be the culprit. Mills follows him to a screening to pry some information out of him, only to wind up murdering Kahane instead. Mills, already feeling the threat of a new hire in the form of Larry Levy (Peter Gallagher), must go about his day-to-day. He continues to mingle with celebs, avoids the police, and falls for the victim's girlfriend June Gudmundsdottir (Greta Scacchi).
It's been three decades since the film's release and, even though dated in technology, feels fresh and biting still. Writer Michael Tolkin has amazing foresight and takes out his bite on the studio system and audiences as well. Every hire-up in this film would not survive in the realm of actual filmmaking. They have never written a script, never stepped in to helm the camera and they never once stepped in front of the camera either. These are all stuffed shirts that think they know what the audience wants and what will please their studio.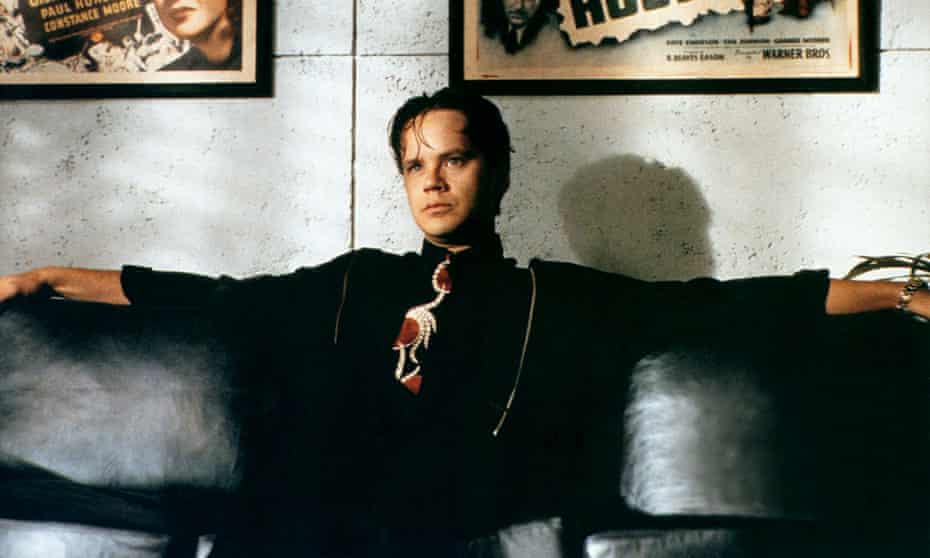 Studios were in the money in the 80s with big-budget blockbusters and franchises becoming the big game in town. Star Wars, Indiana Jones, Friday the 13th Batman, etc. were glued to the public conscience. They also reveled in garnering awards to the point that audiences knew once December rolled around, "Oscar bait" films were sure to follow. These range from indie drama, period pieces, tearjerkers, and the like. The art of the industry started to go into the factory of formulaic formulas both in big-budget and smaller films. The risks of evoking reality and art fall by the wayside. It's a great examination of Hollywood at the time and the cynicism toward the whole system. Altman was from the time of artistic creation in New Hollywood where the likes of Martin Scorsese, Peter Bogdonavich, Francis Ford Coppola, and Steven Spielberg ran rampant. That time should how films could take risks and be more dynamic, more dynamic. It even showed that fantasy and spectacle could be profitable with William Friedkin's The Exorcist and George Lucas' Star Wars. Yet, the yuppies in power saw this approach and churned out franchises. They saw the creatives as awards-makers and got them to be their pitch-hitters for the Oscars.
It's interesting to see this film 30 years later as all that remains above still rings true. In 1992, that reality that the audience did not seem to want in this film would become foundational in shaping the next 30 years. The spectacle did overtake the notions of more realistic and art cinema thanks to the rise of the Marvel Cinematic Universe. Yet, artistic and grounded cinema never stopped. Neon and A24 are the go-to standards for more creative risks and more evolved cinema. Yet, the "stan" culture around A24 and the films they produce and distribute is becoming more prevalent on Twitter as the "end all, be all" of art cinema. All the big films feel created by a committee and must be tied to a larger universe based on the intellectual properties they own. The studio system has even changed further with all the major players (minus Sony) having a steaming service for their content.
The Player not only tackles those in power that make the films we've watched but attacks the audience too. One of the films pitched in the film was titled Habeas Corpus. It starts off as a film without stars and no Hollywood ending due to having the main character die in the end. The end result is a film with stars (Julia Roberts and Bruce Willis) to garner an audience and an ending completely changed due to the test audience in Canoga Park hating the realistic end. Test screenings can make or break a film based on public opinion and have done so. Reactions to finished films can also lead to changes such as in the whole debacle with The Last Jedi. Audiences can make or break a film, but they also shape the foundation of where the film will go. In the last 30 years alone, the mid-budget fare that helped to be counter-programming has gone from the cinema to streaming. The big money makers are all franchise pictures with little room for more creative ideas to hit the box office. It shows what pleasing an audience can do to those in power and their thoughts on what makes money, but also the industry itself.
There's a shot in the film that stood out that also shows the interpretation of Hollywood itself at the time. In a scene in which the unnamed studio head pledges to have 25 films at the Los Angeles County Museum of Art preserved, the studio chief gives a speech about how films are an art form. As he speaks, there are countless closeups of celebrities talking about their days, ignoring the conversation about the artistic integrity of film and what it has done. Even Hollywood itself seems to be ignorant of the artform. Yet, that seems to be the attitude the film takes. Movies are art, and will always be art. But much like every other art form, there are things that diminish the value, and those in those industries may lose their love and touch along the way.
Robbins's performance as Griffin Mills exudes the essence of the Hollywood of the present in 1992 and even today by having these ideas. He is not the man we should sympathize with. In fact, he is a murderer both in the literal sense and figurative sense. He thinks he is the hero, the hotshot, but in reality, he is the scum of the Earth and villain to those who don't know it. Robbins plays him with sympathy and understanding, but when he has to be a dick, boy, is he ever one. He cheats on his current girlfriend with the girlfriend of Kahane. He takes the Habeas Corpus pitch and passes it off to Levy to ensure he fails at producing it to save it (which he does). Some celeb cameos even call him an asshole in the case of Burt Reynolds or chew him out in the case of Malcolm McDowell. He is a sleazeball, but there is a charm to him that is caustic to the idea of executive and upsetting because, in any other film, this man would get his just deserts. Robbins is one of those actors that always lands in films from terrific turns in The Shawshank Redemption, Mystic River, and Bull Durham. This is one that same list for turning the character on its head. This will not be the last we see of Robbins on the Cinema Revue either.
The supporting cast is stellar as well. I love seeing the late great Dean Stockwell and Richard E. Grant as writers Andy Civella and Tom Oakley respectively pitching Habeas Corpus. Stockwell is totally Grant's hype man as Grant pours his heart and soul into the most dramatic pitch you've ever heard. Grant is one of my favorite actors ever so to see him was a complete delight. Whoopi Goldberg gets time to shine as a police detective even spouting the killer line of "This is Pasadena. We don't arrest the wrong people. That's LA." Interesting this in reference to Rodney King's beating caught on video which the verdict of would begin the LA Riots within the week of the film's release. Lyle Lovett also appears, not to sing, but to be a creepy stalker of a red herring.
Greta Scacchi as June is great too, showing that she has true chemistry with Mills, but seems to have wanted Kahane gone long before his death. She nails her artist side and reflects the audience as she rather read books than see a movie because "Life's short" in her eyes. Not to mention the cameos from 65 celebrities, writers, and producers throughout including Jeff Goldblum, Anjelica Huston, Buck Henry and so many more. I cannot list them all here. I tried to make notes of them but there was so so many. All of them did their cameos for nothing because CHer alone was probably in the millions. Luckily, working with Altman was reason enough to appear, even if it was fleeting.
The Player is a perfect examination of what Hollywood was and would eventually be. It's cynical and humorous but never deviates from its intended goal. Robbins knocks it out of the park as Griffin Mills shows what a talent he truly is. This was a comeback picture for Altman in 1992, so with that in mind, it'll be interesting to go through his previous works to see what he was known for. Sure as hell wasn't Popeye.
Revue Rating: 4.5 out of 5  ★★★★½
Next week, May comes to the end. Howard's End that is. Ugh, that's a terrible segue.