Welcome to the '92 Cinema Revue for February. January has come to pass with two hits (The Hand that Rocks the Cradle & Juice) and two massive misses (Freejack & Shining Through). February is a bit of a wild card up ahead. Before we get to the first review of the month, a refresher on the rules for the '92 Cinema Revue.
The Rules for the Cinema Revue
If the film hit number one at the US domestic box office on its debut, it must be covered.
If the number one film is the same for the next week(s), review another film's debut.
Film choices are based on wide release. If no wide-release standout, a limited release will be released.
Four audibles were called. Two films were chosen due to the lack of availability via rental or streaming for another film's debut. Two others were chosen using the UK release date as no other film debuted stateside. The good news is this allows every Best Picture nominee at the Oscars to be reviewed during the series.
Now onto the review of Medicine Man.
Medicine Man – #1 Film in the US Feb. 7th, 1992
All-Time Domestic: $45,500,797
Medicine Man is a film not worth prescribing.
Director hJon McTiernan in 1992 already delivered a trio of classic standouts. He helps spin science fiction and 80's machismo into a perfect survival story in 1987's Predator. That idea of the perfect muscle-bound hero was further pushed out with his work on 1988's Die Hard. He turned The Hunt for Red October from the airport rack book and made it into a compelling spy thriller. McTiernan at this point could do no wrong with a magnificent filmography behind him. All three of those films mentioned are absolute classics.
Medicine Man is not-so-lucky. This follow-up reteams McTiernan with Sean Connery for an adventure drama that is not so adventurous. It does not have what one would expect from McTiernan's work. Rather, it's a smaller film that happens to be about Connery discovering the cure for cancer. I'm not kidding, that's the premise.
Dr. Rae Crane (Lorraine Bracco) ventures out into the Amazonian Rainforest as a research assistant to Dr. Robert Campbell (Sean Connery). Campbell's prior assistant has left. This leaves Crane to pick up the slack and see if the research Campbell is doing with the local tribe is worth funding anymore. As it turns out, it is as Campbell has discovered the cure for cancer with a new serum. Yet, he has not yet synthesized the compound, so the serum is all he has left.
When a boy becomes ill with cancerous lumps, Campbell and Crane must venture to find the original "medicine man" of the tribe who holds the answers. Campbell got the title after aiding a boy's stomach ache with Alka Seltzer, so the original man eloped into the forest. The duo begins their journey for the medicine man. Yet they must encounter the local logging company ready to ruin the forest.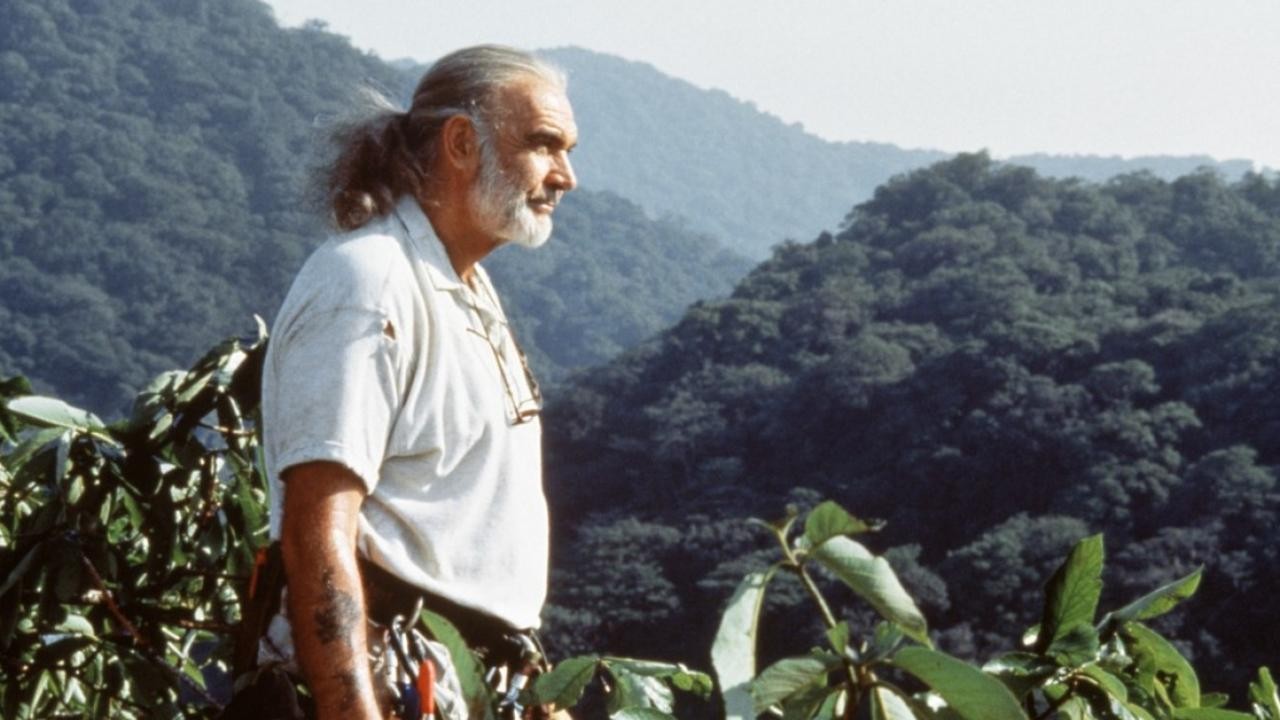 Three weeks in a row of films that are not very good. Medicine Man tries to make a compelling film but winds up short. It has an identity problem much like Freejack. At times, it feels like a wacky comedy could have happened at any moment. In fact, I was expecting it to become akin to Romancing the Stone, but it never does. The execution of the premise that is exciting is much like Shining Through. The "cure for cancer" plot sounds like a fun time to see what goes on with it. It results in a snoozefest. It's a movie that would play at 3 pm on a Sunday between football games on Fox. I thought a syndicated ad break from a local station would pop up at one point. I'd be ready to nap and hear "Medicine Man starring Sean Connery will continue" to wake me up. Yet, that moment never came.
The direction by McTiernan is quite standard with some sweeping shots of the jungle. McTiernan is not a stranger to them, so it isn't a surprise. It is a good change of pace of seeing McTiernan come from the gravitas of Red October to smaller mid-budget fare. It isn't his best work, but McTiernan does try. McTiernan is best at action directing-wise. The trailer did make it seem like an action romp, not a drama during the promotion. McTiernan in an interview with Movieline in 2001 this contributed to it being seen as anything but.
"It was a little art movie with Sean Connery that cost only $27 million. If the press hadn't defined it as an action movie, it probably wouldn't have been considered a disappointment."

– John McTiernan, "The Extreme Sport of Being John McTiernan" Movieline, 2001
There's not enough effort in guiding the performances though. Bracco is in full Willie Scott from Indiana Jones and the Temple of Doom here. She shouts and whines throughout which is a shame because she was stellar in Goodfellas. Here she is not given much to work with except being the butt of Connery's misogynistic jokes. Her performance is the reason I thought "Was this a comedy?" because of how outlandish it is.
Connery is Connery as in being an angry Scotsman with a good heart and quips aplenty. The misogyny does not hold up in the slightest. This role is the beginning of a very hit-and-miss 1990s. He nailed the drama in The Hunt for Red October, but the tone of the film here is all over the place. I'm will also commend the film for not treating the Native Amazonian tribe as otherworldy. There is archaic terminology that will make people uncomfortable throughout.
Medicine Man falters its unique premise with a bore of an experience. The performances cater more to comedy and the direction is middle-of-the-road. The tone still needs finding even 30 years later.
Revue Rating: 1.5 out of 5
Next week, it's party time! Excellent! It's "Wayne's World" to bring joy back into Cinema Revue. Time to revisit an all-timer. Prepare to headbang to Queen once again without irony.